Zoopla
Here's our top 10 tips to go about reigniting interest.
By Esther Shaw
January 22, 2019 00:00
If you're struggling to sell your home, you're not alone. A cooling housing market can make conditions tough for sellers, as buyers hold out waiting for prices to tumble.
But if this is the case, our top 10 tips can give your sales process a new lease of life help you secure a sale asap.
1. Make sure your home has 'kerb appeal'
As many potential buyers will do a 'drive-by' of a property before their booked viewing, it's important they like what they see from the outside.
Make sure the front of your home looks appealing. This might mean giving your front garden a bit of a tidy, especially as gardens tend to be a bit neglected during winter, repainting the front fence, and popping your wheelie bin out of sight.
2. Remember the basics
When thinking about the interior of your home, the key is to get everything looking spick and span.
That means cleaning windows, curtains, carpets and rugs and so on. You also need to scrub the hob and kitchen cupboards and give the bathroom a good going over. Rooms need to be gleaming for every viewing.
Ensure every lightbulb is working as you may well be showing the house on a grey, cloudy day if you're trying to sell at this time of year, and carry out a big declutter.
Stow away things you don't use much in a loft or shed and give items you no longer need to a local charity shop. It can be liberating.
You could also sell unwanted goods to pay for any makeover work you need to do, either online on a site such as eBay or Gumtree, or at a local car boot sale. The key is to focus on creating more space in your home.
3. Carry out some simple home improvements
There's no need to spend a fortune redecorating your home when you're trying to sell, but a quick lick of paint on the front door, window frames, and in the rooms which need it most, can make a real difference.
Most buyers will want to bring their own personality to your property, so painting over any colourful walls to return them to neutral makes good sense.
Now is also the time to complete any unfinished home repairs that you've been procrastinating over, and to fix anything that needs fixing.
Replacing any worn flooring – or re-staining wood floors – can also help give your home the edge.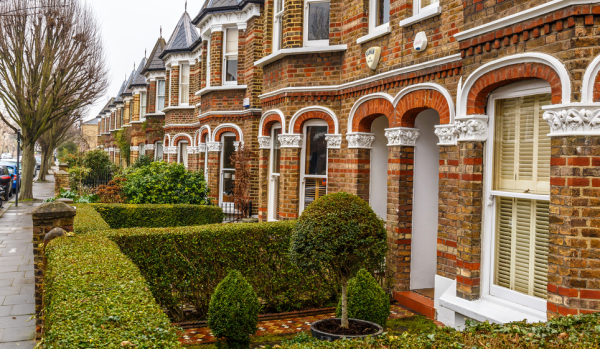 Remember that a well-tended garden can help make a property look more welcoming, so clear up dead leaves, and trim back plants and bushes.
Given that you may have had a lot of visitors coming and going, with little time to give your home much attention, now is precisely the time you need to give your house or flat a big dose of TLC.
That said, be wary of only doing major work on one room, as it will just show up how much the other rooms need attention. Balance is key.
For more tips, read: Selling up? 10 home improvements to make to your home.
4. Go shopping
Consider splashing out on smart new towels and a new bedspread, as these things can all help add a little 'sparkle.'
5. Ensure your property is well aired
While you will be keen to ensure potential viewers come into a warm and cosy home during the colder winter months, you don't want your property to seem stuffy, so make sure you open the windows regularly to let in some fresh air.
Consider freshening your home's smell with cut flowers and take extra steps if you have a pet. Tidy away litter trays, scrub pet areas, and use a natural air freshener.
6. Invite in light
As homes are inevitably a lot darker in the winter months, take steps to ensure your home looks inviting.
Take advantage of natural sunlight when you can and make sure blinds and curtains are open during the day. Also, ensure your home is well-lit at night.
7. Think about dropping the sale price
One way to improve the chances of selling your home, is by lowering the asking price.
Have a frank chat with your estate agent and do your own research to find out what's going on in the local market to help you set a realistic asking price.
At the same time, think carefully before deciding you are willing to accept a large discount for your property. Although, as this could have an impact on whether you can afford the home you are trying to buy.
Do your maths – and your homework – to ensure you set the price at the right level.
8. Consider re-evaluating your selling agent
Give some thought to your estate agent and consider moving to a new one if you're not content.
The key is to find an agent familiar with selling your kind of property and who has good knowledge of the area you are selling in.
They also need to be enthusiastic and proactive about trying to shift your home. Zoopla's AgentFinder tool can help here.
But, before rushing to find a new agent, check if you are tied in for a fixed period.
Generally, as a seller, you are likely to be locked in for a period of between four and 12 weeks.
If you want to move to a new agent, you will need to check the Ts and Cs carefully, as some may levy a penalty for ending the contract early.
Alternatively, if you have more than one agent marketing your home, you might want to think about incentivising them with a cash bonus for the one who closes the deal within the shortest timeframe.
9. Change your photos
Look at the photos that are being used to market your property and consider whether they are showcasing your home's best elements.
Buyers spend mere seconds looking at photos, so pictures should show your home in its best light to grab their attention quickly.
If you're not happy with the photos, or the marketing blurb that accompanies them, speak to your agent and get things changed. First impressions are crucial.
10. Get all your paperwork in place
If you want a sale to conclude quickly, it helps to have your paperwork in order before you receive an offer.
This means appointing a solicitor or conveyancer at an early stage and getting them to prepare the sales pack and draft contract.
This is particularly important if you are selling a leasehold property, as this process can take a long time.
It's also important to know where your property's title deeds are.
By having everything in place, you can then get the necessary paperwork to your buyer's solicitor quickly once a sale price is agreed.
You might also be interested in...