Zoopla
Whether you live in your own home or rent, it's vital that your gas and electric appliances are up to standard. Our Q&A is here to help you stay safe.
We all know that carbon monoxide can be a silent killer, yet one in six homes has a dangerous gas appliance.
How can we make sure that we're properly protected, and how often should our appliances be checked?
We've teamed up with the Axe Safety Tax campaign to answer those questions to help keep you safe in your home.
Q. How often should your gas appliances be tested?
A. Annually and, crucially, by a Gas Safe registered engineer. One in six homes has a dangerous gas appliance. Gas fires are the biggest risk and a third checked by the safety authority were deemed unsafe.
Q. Do you need a Gas Safety Certificate for your home?
A. Yes, and if you rent your home ask for a copy of the landlord's current Gas Safety Record. Your landlord should provide you with this before you move in and within 28 days of the annual check taking place.
Q. Who is ultimately responsible for gas safety in your home?
A. The landlord or owner is responsible for maintaining the gas appliances, pipework and flues they provide in accordance with the manufacturer's instructions.
Q. When an engineer comes to your home to carry out work on your gas appliances, do you check their credentials before you let them carry out the work?
A. Yes, you should check your engineer's Gas Safe Register ID card. Around 1.1 million gas jobs are carried out every year by illegal gas fitters. Research shows that 16% of people would trust an engineer if they said they were registered, rather than checking their ID card.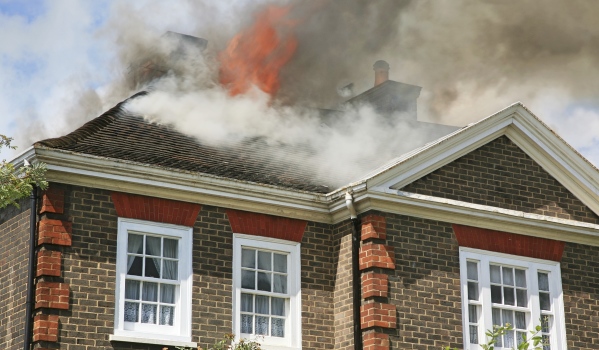 A worrying number of properties in the UK do not have a smoke alarm
Q. What qualifications does your gas engineer have to have by law?
A. All gas engineers must be on the Gas Safe Register (it changed from Corgi almost 10 years ago) to work safely and legally on gas appliances. Click here to find a business or check a Gas Safe Register engineer.
Q. Should you have a working smoke alarm?
A. Yes, but worryingly, 1.5 million households across the UK don't have a smoke alarm.
Q. Should your landlord provide you with a carbon monoxide (CO) alarm?
A. Only if you have a solid fuel burning source like wood or coal. Since 1 October 2015, regulations require CO alarms in rooms with a solid fuel appliance. Over 4,000 people are hospitalised each year from carbon monoxide poisoning.
Q. What are the signs of carbon monoxide poisoning?
A. There are six signs of carbon monoxide poisoning. They compromise of headaches, dizziness, breathlessness, nausea, collapse and loss of consciousness and are often mistaken for the flu, food poisoning or tiredness. Remember that you cannot see, smell or taste carbon monoxide.
Read more: Make sure you're not paying over the odds for home insurance, by comparing deals with our partners at Money.
Q. What should you do if you can smell gas in or around your home?
A. If you smell gas or think there might be a gas leak, call the free 24 hour national gas emergency number immediately on 0800 111 999.
Q. Who is ultimately responsible for electrical safety in your home?
A. The landlord or owner must ensure that electrical installations and wiring are maintained in a safe condition throughout the tenancy. There are 2,469 electrical fire incidents reported each year in the UK.
Q. How often should your electrical appliances be tested?
A. Electrical appliances should be checked on change of tenancy or at least every five years. Every year around 70 deaths and 350,000 injuries in UK homes are caused by faulty electrics and electrical equipment and almost half of all domestic fires are caused by electricity. In you live in a privately rented home, statistics show that you are at a higher risk of electric shock.
Q. How do you tell if your gas appliance is faulty?
A. If you spot any of the following then you need to urgently speak to your landlord.
Soot or staining on our around your gas appliance
Excess condensation in the room
Lazy yellow flames instead of crisp blue ones
The pilot light keeps going out
If your landlord refuses to carry out their legal gas responsibilities, contact the Health & Safety Executive or call 0800 300 363.
Q. What do you do in a gas emergency?
A. If you smell gas or suspect you have symptoms of carbon monoxide poisoning you need to act fast.
The Gas Safe Register recommends that you:
Turn off the gas at the meter
Extinguish any naked flames
Open the windows
Call the gas emergency number for your area. The Gas emergency contact in the UK is 0800 111 999
If you feel unwell, then seek medical help
There are almost 10 million rented homes in the UK. This includes 4.3 million social rented and 5 million private rented.
Axe Safety Tax is working to raise awareness of the dangers of carbon monoxide in the home and the importance for people who are renting of having their gas appliances properly checked.
It is also campaigning for the 20% VAT tax on all safety products used in homes across the UK to be removed to make them more affordable and ultimately to save lives.
This includes removing the tax on smoke alarms, fire blankets, first aid kits, fire extinguishers, annual gas safety checks, fire assessments and carbon monoxide detectors.
You can join the Axe Safety Tax campaign by signing the petition.
You might also be interested in...
Can you help with further tips to make our homes even safer? Let us know in the comments section, below...