Zoopla
Looking for a way to make renting more affordable? Here's three ways you can cut the costs without compromising living standards.
January 4, 2019 00:00
The cost of renting can come as a nasty surprise – and it's expected to soar over the next five years.
Recent tax changes are seeing landlords selling up, and a shortage of rented properties on the market, which is expected to drive up costs for tenants.
But there are ways to trim these costs, without living in a hovel. Here are three ways.
Guardianship
You could sign up to be a property guardian, and live in one of the many empty properties around the country. These may be vicarages, pubs, care homes, or even fire stations, for example – there's a massive range of options for minimal rent. You may even find yourself living in a stately home for pittance, if you're lucky.
The idea is that you get accommodation, in exchange for keeping an eye on a property, and stopping it potentially being occupied by squatters.
There's a range of websites, such as Ad Hoc Guardian, which markets itself as an affordable alternative to renting, and dotdotdotproperty.com. Both list a wide range of properties around the UK seeking guardians. Rents may be anything from £150 to £600 a month, depending on the type of property and location.
You pay a deposit, and sign a contract that's similar to a standard rental agreement. Likewise, you'll need to have proof that you can cover the cost through your earnings, and references. However, beware that landlords only need to give two weeks notice if they want you to move out.
Typically, you'll have a bedroom to yourself, and share other facilities with the rest of the guardians who live there.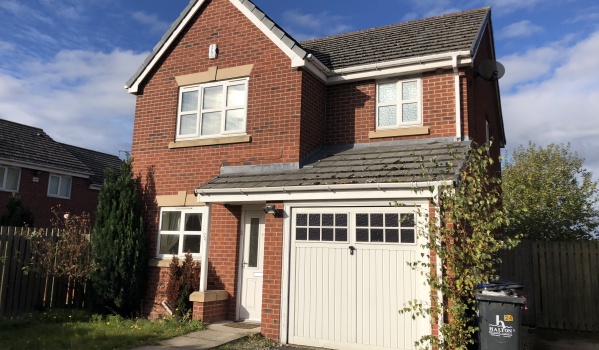 Above: You can rent a room in this house in Widnes, Cheshire, for just £220pcm as a property guardian.
Homeshare
You may be able to live with an older homeowner who has a spare room, in exchange for a small amount of rent, help around the house and with any chores for a certain number of hours a week.
There are charities and organisations such as Share and Care Homeshare, SharedLivesPlus and Roomfortea that are aimed at tackling issues such as loneliness among older people, and helping people to help each other. They have come up with this alternative way of finding cheaper rented accommodation, and giving something back.
You'll probably find there's a minimum stay of around six months. The process is simple - you complete an online form, and may then be invited for interview to see if you're a suitable homesharer, before being matched with an older person.
Lodgers
You may find that choosing to be a lodger is a cheaper option than renting a room in a houseshare. You'll also typically pay all-inclusive monthly rent, which eliminates the need to split bills with housemates, or the worry of additional costs.
Also, as you'll live with the landlord, you may find that the property is particularly well taken care of, without some of the maintenance issues that can arise with a rented property – and any issues can be dealt with quickly, as you live with the person in charge. However, this comes with a downside, as you may feel less freedom to treat the property as your home. The property is ultimately the landlord's main home, and you don't have exclusive use of the space.
Beware that landlords only needs to offer "reasonable notice" if they want a lodger to leave, which may be shorter than the standard 28 days. You'll also find you won't necessarily have your deposit protected in a scheme, which may potentially see issues if there are any disputes down the line.
You might also be interested in...